Why you should get a cleaning after not running your printer for long periods of time.
So, you are just getting back to work after spending possibly months off. Obviously this is happening to many people who have been working from home because of the COVID-19 Virus pandemic, but this might also be true for someone who is taking a printer out of a closet after months of even years of neglect. You go to turn your printer on, hoping that it is going to function exactly as it should and you are buffeted by the troubling reality that it is not. Your colors aren't coming out right, the print quality is terrible, and you are getting errors that you have never seen before. Fear not, we are here to help.

During these troubling times many large format printers have sat idle, just waiting for people to come back and run much needed jobs on them that not only keep the printheads from drying out, but also reduces the dust that builds up on many essential components. Now that you are getting back it's probably a good time to get a technician to your site and get your printer cleaned. We suggest that you get your printer cleaned every 6 months, obviously some people go years without a cleaning, but when you let your printer sit it is especially important that you get your printer serviced.


Get Service Today!
 

Back to work cleaning specials still available.
Some common issues that you might be experiencing.
Poor Print quality
    Letting your printer sit is the easiest way to cause the printheads to fail.  We recommend that on any inkjet printer that you print in color at least once a week. This is especially true with printers that use pigmented. Inks such as the HP DesignJet Z and T series printers ( which use photo black ink), but also all solvent printers and latex printers. Pigment is what gives your ink that staying power, it's what allows ink to exist in direct sunlight for long periods of time, and what allows an architectural drawing to last 20 years. The downside is pigmented inks also clog your print heads, and cause them to dry out. 


Pigment is generally made from very fine solids. In the case of Mutoh white ink, titanium, generally these pigments are suspended in a carrier fluid, and when they sit in the printhead, which is sealed on a wet capping station, they do not dry out, but if you haven't printed, then the capping station will dry out, which will dry out your head, and then the pigment will get stuck in the printhead nozzles which are many times smaller than the hair on your head. Once this happens it is very difficult to flush that dried ink out and usually leads to deterioration of print quality, deflection, and eventual printhead replacement.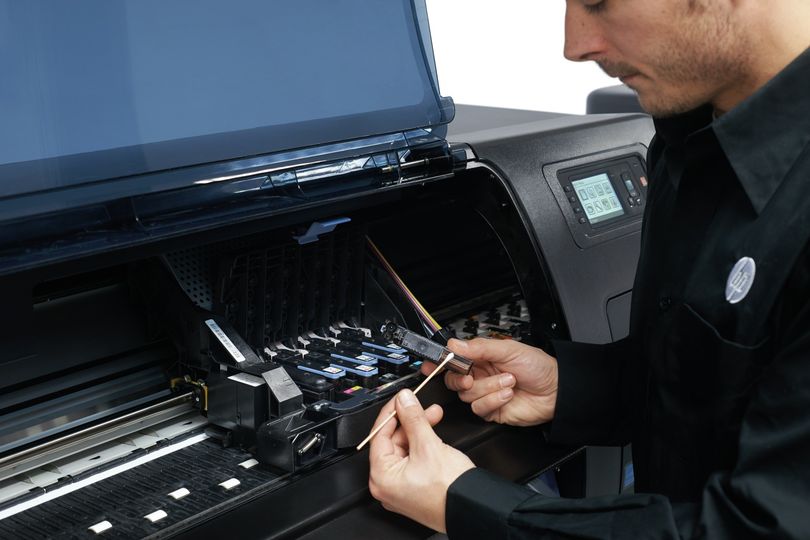 In the case of HP printheads this isn't such a big deal, printheads are user replaceable, relatively inexpensive, and are replaced often during the lifetime of a printer, but when it comes to solvent printers this can be very expensive, sometimes reaching over $3,500. We would suggest that anyone with a Solvent printer does everything they can to avoid this. Printheads cost thousands of dollars. In addition you need to change all ink related equipment such as dampers, captops, o-rings, and printhead cables, and all of this should be done by a technician.  DX series printheads by Epson, the manufacturer of virtually all solvent printheads, requires alignment. takes experience,  practice, patience, and for the untrained eye, a lot of time A factory trained technician typically takes about 2 hours to align a printhead. 


If you find yourself in this situation,  start with doing a diagnostic print.The result will be a  matrix that illustrates  any of the individual nozzles on a printhead are clogged., If they are clogged, try doing a cleaning If that doesn't work, then you will probably need to change your printhead. 


If you have an HP DesignJet printer, we recommend  starting by replacing the printheads.  If you have a solvent printer such as a Mutoh ValueJet, Mimaki JV/CJV, or a Roland SP it's time to call a technician. Be wary of any tech  he/she starts with the printheads without trying captops and dampers first. 


For general inquiries on what might be wrong call us today.
Many issues can be solved over the phone.
The carriage is not moving smoothly
There are many reasons why the carriage might start moving slowly, but in the case of letting a printer sit for months on end, it is probably due to dust buildup. This dust buildup can be on your encoder strip, the carriage rail, or the encoder sensor, it could also be from the y-axis motor or possibly the carriage belt, but this would be less likely.


To start, clean off your encoder strip with a very small amount of water.  If the printer uses an aqueous based ink system, simply put a small amount of water on a piece of t-shirt material or lint free cloth, pinch the encoder strip and go across it once, or possibly twice.  Any more than that can damage the encoder strip. In the instance of Solvent printers I would suggest using 70% or less alcohol, and be very careful, alcohol has an even higher chance of destroying the encoder strip, even professional technicians damage encoder strips using this technique.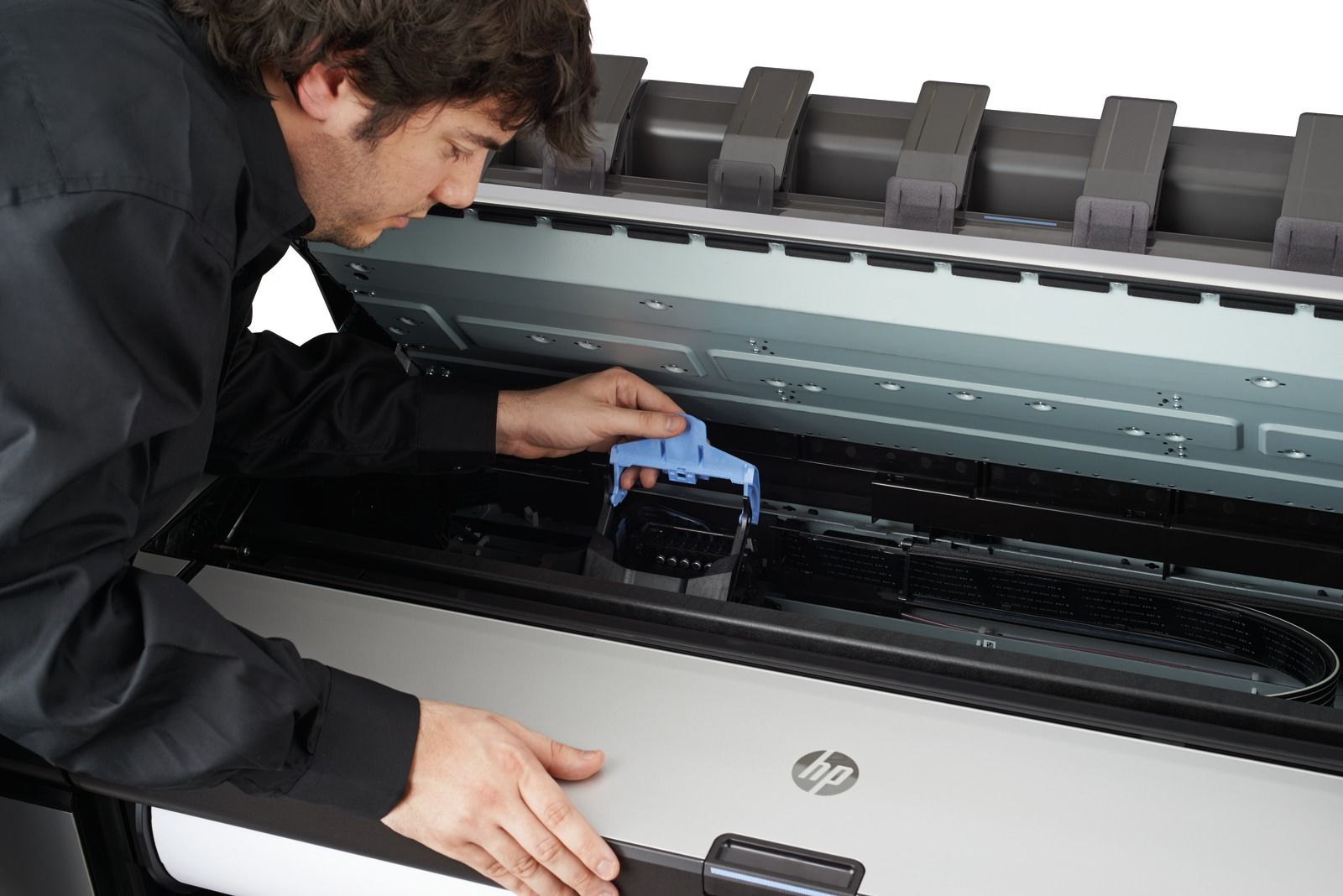 Now we can move on to the carriage rod. Basically this is precision milled, lubricated rail. The lubricant that we use is special in that it helps reduce dust build-up.  Conventional lubrication oil, such as 3-in-one absorbs dust and will get sticky over time. In the case of HP printers, what you want to do  is lubricate the pads that are on the back of the carriage that connect the carriage to the rod, you can also lubricate the rail directly and move the carriage right and left to spread it evenly. We suggest you get a technician to do this sort of thing, but if you are the do it yourself kind of person then this is the process. On most solvent printers you would lubricate the rail directly. If you see noticeable dust or ink buildup before you start then I would make sure to wipe all of that off before you do this. In the case of solvent ink printers you will want to use alcohol, otherwise water works fine.


If you have tried the recommendations, and the carriage still isn't moving correctly, then it is time to call a professional. It's possible  a sensor is dirty or bad, or there is something wrong with the scan axis motor, both of these things should be addressed by a professional, as servicing them incorrectly can result in further damage to the printer.


Visit our store for competitive prices on ink and supplies.
Getting new printheads could be just the thing you need to fix your printer.
Unexpected errors
Maybe you turned on your printer and it's giving you some error, messages that the carriage tries to move and doesn't, or it goes right and left but then it sits on the service station and doesn't go past that or it tries to read your media and can't find anything.


If you are experiencing any of these issues then you will need a technician to come out and service your printer. Below are some examples:


HP error 21:10 ,This error means your service station has failed. This can be due to any number of reasons:The station has reached its capacity of ink that it can store; it could be because the service station motor is jammed with ink;  the sensor inside of the service station is too dirty for it to function properly.  The only solution is replacement of the service station and MUST BE DONE BY A TECHNICIAN. You do not want to attempt this yourself because if you do it wrong, you can not only do more damage to the printer, but you could also spill up to 5 liters of ink straight onto your floor and it will NEVER come out.


HP error 55:xx This error code is related to the encoder strip, encoder sensor, or your line sensor.  These usually fail due to ink and dust build-up. They are not easy to change on your own. A technician is suggested to troubleshoot and fix this error code


HP error 47:xx. This is related to the "star wheels that move the media. most likely due to some kind of media impeding the wheels from moving correctly. This problem can usually be solved by the user unscrewing the star wheel assembly and removing any small bits of debris. If the problem persists, a general cleaning and troubleshooting by a technician is in order.


These are just some basic errors that you might be seeing when you get back to work, there are of course many more possible errors, this only covered HP errors for some of the older printers. If you have one of the newer Z series printers these errors will have a different code, please contact a technician to troubleshoot the printer .


Sometimes is just not worth fixing.
For prices on new printers and available specials get a quote today.
A large format printer is a precision piece of equipment, some of them cost 10's of thousands of dollars. You have made an investment to grow your company. It is important to maintain your investment. Today we continue to work on printers that are almost 20 years old. and they continue to run very well. This is due to a company that prints often, gets regular maintenance done on the printer, and never uses non-OEM ink. 


If you are coming back to the office after letting your printer sit for weeks or months, then the best thing that you can do is get a cleaning, and make the necessary repairs to get the printer operational  as soon as possible. We cannot tell you how many times we have worked with people who have decided to do this stuff on their own and they ended up wasting weeks or even months trying to solve an issue that could have been solved in a single service call. It's time to get back to work.