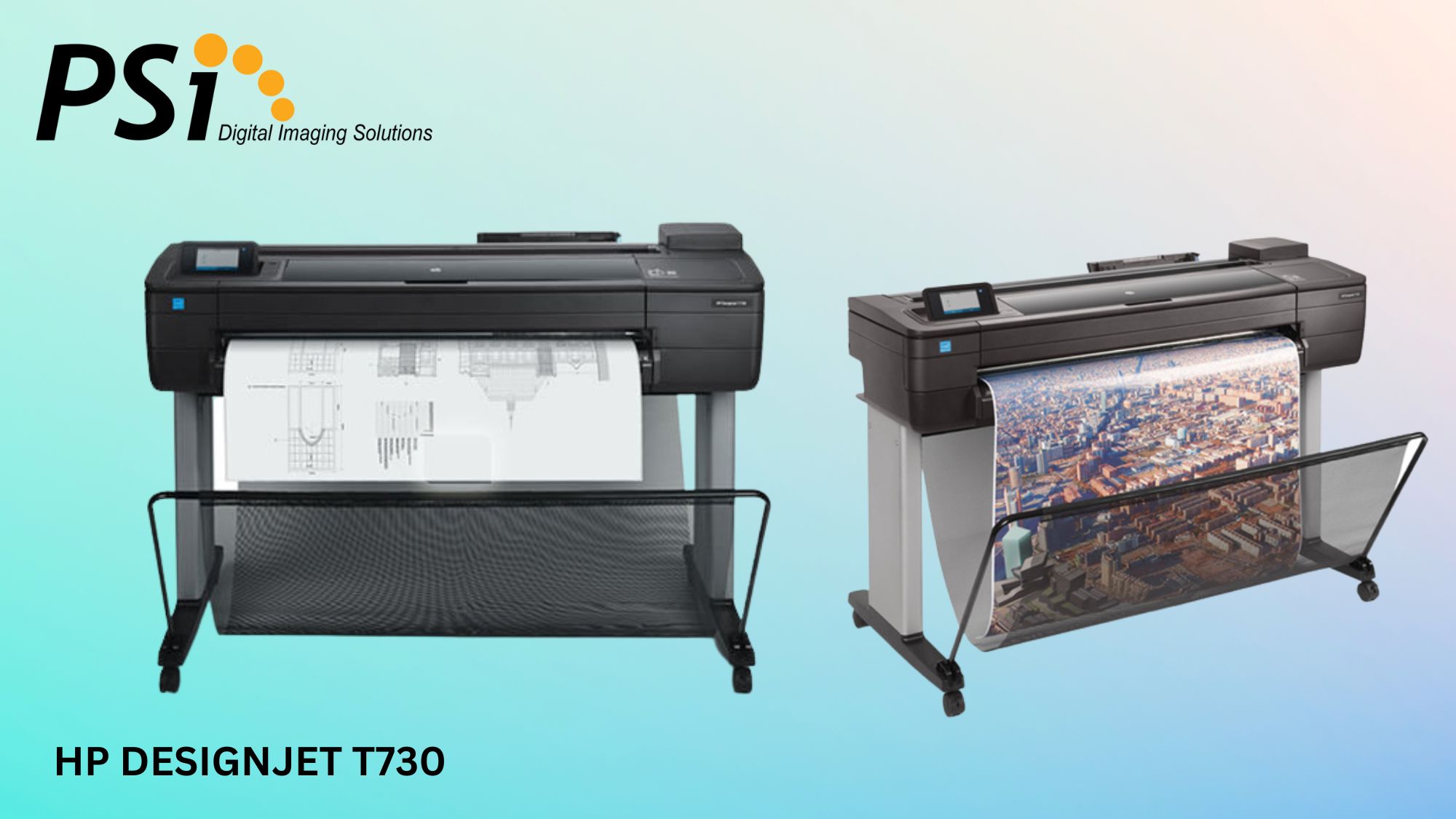 When it comes to large-format printing, selecting the right printer is crucial. It can make a significant impact on the quality of your prints, productivity, and overall efficiency. One printer that stands out in the market is the HP Designjet T730. 
In this blog post, we will explore the reasons why the HP Designjet T730 is a standout choice for professionals and businesses in need of high-quality, large-format prints. From its exceptional features to its impressive performance, we will delve into what sets the HP Designjet T730 apart from its competitors and why it should be on your shortlist.
1. Unmatched Print Quality 

One of the key factors to consider when choosing a large-format printer is print quality, and the HP Designjet T730 excels in this area. With its advanced printhead technology and precise color management system, it delivers sharp, vibrant, and accurate prints consistently. The printer supports resolutions of up to 2400 x 1200 dpi, ensuring that even the smallest details are captured with precision. Whether you're printing architectural designs, engineering drawings, or marketing materials, the HP Designjet T730 produces professional-grade prints that leave a lasting impression.
2. Compact Design and Space Efficiency 

Space is often a valuable commodity in offices and design studios. The HP Designjet T730 addresses this concern with its compact design without compromising functionality. Its small footprint allows it to fit seamlessly into any workspace, making it an ideal choice for professionals with limited office space. Despite its compact size, the HP Designjet T730  doesn't skimp on features and performance, making it a practical solution for those seeking a powerful large-format printer without sacrificing precious workspace.
3. Versatility and Wide Range of Media 

The printer offers exceptional versatility when it comes to media handling. It supports a wide range of media types, including bond and coated papers, technical papers, film, self-adhesive sheets, and even banners. This flexibility allows users to explore various applications, from creating architectural plans and maps to producing eye-catching posters and signage. The printer accommodates rolls up to 36 inches wide and sheets up to 11 x 17 inches, providing ample options for different project requirements. With the HP Designjet T730, you can unleash your creativity and bring your vision to life in diverse media formats.
4. Seamless Integration and User-Friendly Interface 

Efficiency and ease of use are vital considerations for any large-format printer, and the HP Designjet T730 excels in both aspects. It seamlessly integrates into existing workflows, supporting both Windows and Mac operating systems. The printer also comes with intuitive software tools that simplify print job management, ensuring a smooth and hassle-free experience. With its user-friendly interface, navigating through print settings, job queues, and status updates becomes effortless, even for novice users. The HP Designjet T730's seamless integration and user-friendly interface contribute to increased productivity, allowing you to focus more on your creative work and less on print management.
5. Enhanced Connectivity and Mobile Printing Capabilities 

In today's connected world, the ability to print wirelessly and remotely is a significant advantage. The HP Designjet T730 offers enhanced connectivity options to meet these demands. It supports Wi-Fi connectivity, enabling wireless printing from multiple devices within your network. Additionally, the printer is equipped with HP Mobile Printing capabilities, allowing you to print directly from your smartphone or tablet using the HP Smart app. This feature proves invaluable for professionals on the go or those who need to collaborate with team members remotely. With the HP Designjet T730 , you can print and share your work conveniently and effortlessly, no matter where you are.
Conclusion

When it comes to selecting the right large-format printer, the HP Designjet T730 emerges as a standout choice for professionals and businesses alike. Its exceptional print quality, compact design, versatility in media handling, user-friendly interface, and enhanced connectivity options make it a top contender in the market. Whether you're an architect, engineer, graphic designer, or in any field that requires large-format prints, the HP Designjet T730 offers the features and performance necessary to meet your demands. By choosing the HP Designjet T730, you're investing in a reliable and efficient printer that delivers outstanding results time and time again.
Plottersupplies.com is the best supplier in town from where you can blindly buy HP Designjet T730. Come make a smart investment in this compact, professional, and robust printer that fits your space effectively. Prints are delivered as low as within just 25 seconds. Isn't that just amazing? To know more about such exciting features, take a look at the printer by clicking on this link: https://www.plottersupplies.com/shop/product/f9a29d-hp-designjet-t730-36-printer-14427#attr=. If For purchase or product-related queries, you can reach out to us via mail at info@plottersupplies.com or call us at (800) 365-3305. riting here...