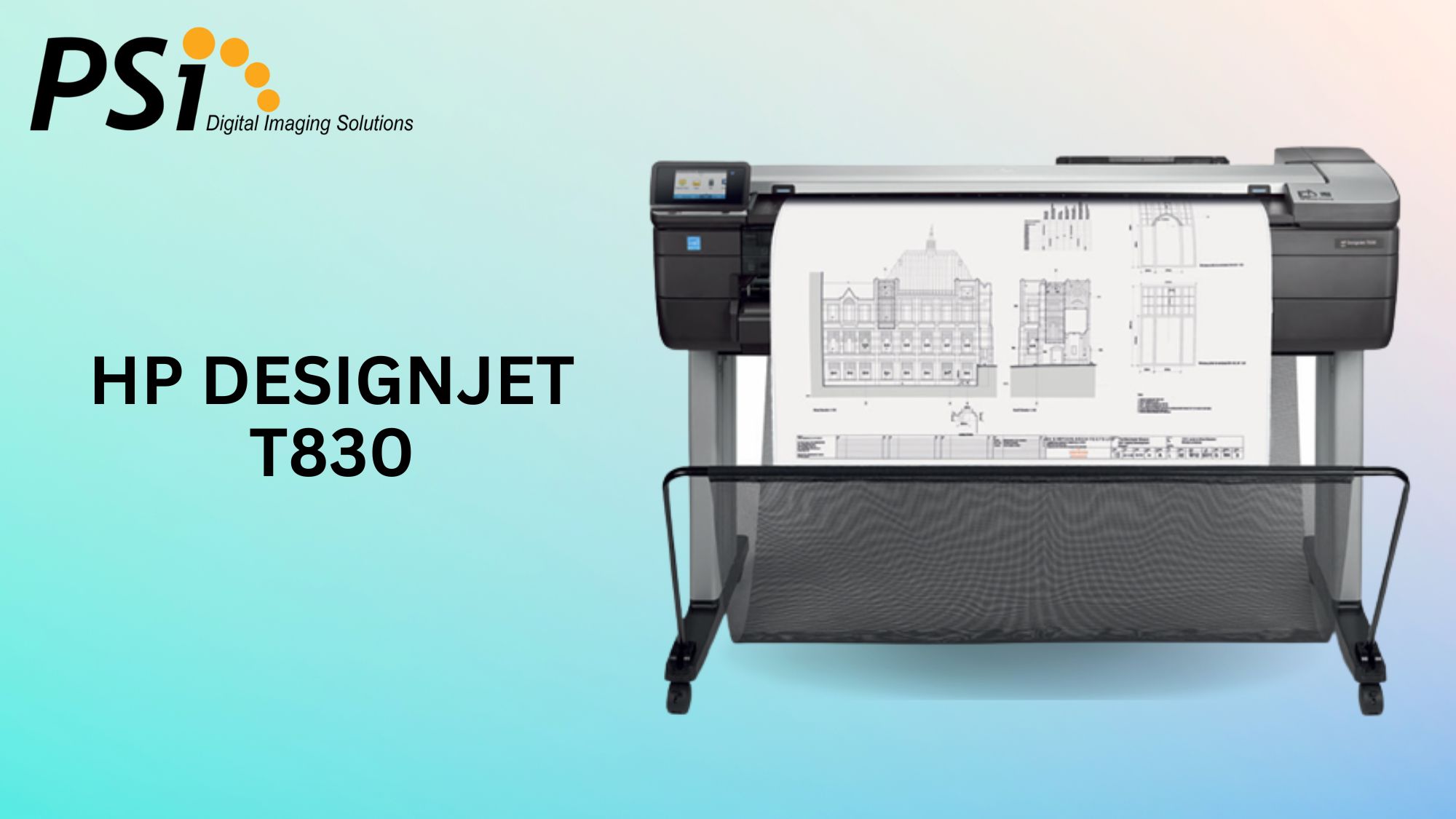 Small businesses need efficient and dependable tools to keep ahead in today's competitive business world. When it comes to printing and scanning, the HP DesignJet T830  has emerged as a popular alternative for small businesses as an all-in-one solution.
Furthermore, the T830's user-friendly interface and seamless connection with mobile devices help small enterprises to increase productivity and flexibility, allowing them to remain competitive in the business world.
Top Features
●     Fast printing: Prints documents in as fast as 26 seconds for A1/D-size prints.
●     HP Click printing software: Easily print project sets and PDF documents with the user-friendly HP Click printing software.
●     Mobile printing: Smoothly print from a smartphone or tablet using HP Mobile Printing.
●     HP DesignJet quality: Provides the same trusted HP DesignJet quality and reliability even in small-format sizes.
●     Smart scanning technology: Protects originals from damage during scanning and ensures precise colors.
●     Portable and sturdy design: Features reinforced design and strong legs for easy transport and use at job sites.
●     Seamless communication: Use the built-in scanner to copy and distribute sketches and hand-annotated drawings instantly. Easily link devices to the printer with Wi-Fi Direct.
But why could the HP DesignJet T830 be the ideal choice for small businesses? Let's know if it is a versatile printing solution that combines convenience, quality, and affordability.
1.    Streamlining Tasks
The DesignJet T830 is more than just a printer. It is a single device that combines the tasks of many devices.This all-in-one functionality eliminates the need for multiple machines, reducing costs and space requirements for small businesses. With it, you can seamlessly print, scan, and copy documents, streamlining your workflow and increasing productivity.
2.    Effortless Printing:
Small business owners and employees often wear multiple hats and have limited time for complex printing processes. The HP DesignJet T830 simplifies printing and scanning tasks with its user-friendly interface and intuitive controls. Whether you need to print essential reports, architectural drawings, or marketing materials, it offers hassle-free operation, enabling you to focus on other critical aspects of your business.
3.    Compact Design:
Small businesses often face space constraints, making it essential to choose equipment that only takes up a little room. The T830's compact design fits comfortably in small office environments without compromising functionality. Its sleek and ergonomic structure allows it to blend seamlessly into any workspace, providing a professional and efficient printing solution without sacrificing valuable space.
4.    Versatility for Various Print Sizes:
One of the DesignJet T830's key advantages is its versatility in print sizes and materials. Whether you need to print standard letter-sized documents, architectural blueprints, or large-format posters, it can handle it. Additionally, it supports a wide range of media types, including plain paper, photo paper, canvas, and even vinyl. This versatility empowers small businesses to explore different creative avenues and expand their offerings.
5.    Durability and Reliability:
Small businesses often require equipment that can withstand heavy use and provide consistent results. The HP DesignJet T830 delivers on both counts. With its robust construction and high-quality components, this printer is built to handle the demands of a small business environment. It boasts reliable performance, producing professional-grade prints consistently, which is crucial for creating a positive impression on clients and customers.
6.    Affordability and Cost Savings:
Cost is a significant consideration for small businesses, and the T830 offers an attractive cost-saving advantage. Combining multiple functions in one device eliminates the need to purchase separate printers, scanners etc. This consolidation saves money upfront and reduces maintenance costs, ink or toner expenses, and energy consumption, ultimately contributing to long-term savings for small businesses.
Is It Worth The Investment For Print Shops?
Design Studios and Print Shops require the HP DesignJet T830 for its wide range of features and capabilities that cater to their specific needs. One key reason is the ability to produce high-quality output. Design studios must ensure that their creations are accurately represented in print, with precise line accuracy and vibrant colors.
It delivers exceptional print quality, meeting the professional standards expected in the industry.
Similarly, print shops need to provide their customers with top-notch prints, and the T830 ensures that every print reflects the true essence of the design. With its superior print quality, the DesignJet T830 becomes an essential tool for design studios and print shops, helping them deliver visually stunning and impressive results to their clients.
Things To Check When You Buy Designjet T830 Online
Product condition: Verify whether the printer is new or refurbished, and carefully review the product description for any potential damages or defects.
Specifications: Check that the listed specifications match your requirements, including print size compatibility, print speed, resolution, connectivity options, and any additional features you may need.
Warranty and support: Confirm the warranty duration and what it covers. Look for information on customer support, repair services, and available technical assistance.
Pricing and value: Compare prices across different online platforms to ensure you are getting a fair deal. Consider the overall value by evaluating the printer's features, performance, and included accessories or software.
Compatibility: Check the compatibility of the HP DesignJet T830  with your operating system and any specific software or applications you plan to use.
Shipping and return policies: Review the shipping options, estimated delivery timeframes, and return policies provided by the online seller. Understand the conditions for returns, exchanges, and refunds in case of any issues with the product.
The Bottom Line
Design studios, print shops, and architectural firms searching for the best quality printers, including the highly acclaimed HP DesignJet T830 and more, need not look any further than Plotter Supplies. With a wide selection of top-of-the-line printers renowned for their exceptional quality and performance, we are the go-to destination for businesses seeking excellence in their printing solutions. Visit
https://www.plottersupplies.com/shop
to order online.