TRASH, whether it be plastic, fiber, paper,  metals, cosmetics, chemical residue, is being disposed of poorly on land resulting in it being washed into rivers, streams, creeks, and lakes. Once there it is transported to the oceans. A high percentage of the land-based waste, estimated to be 75-80% finds its way to the oceans and seas. The remaining percentage occurs from ships and vessels. Items from these ships is generally fishing nets, line, and other items lost during storms.
It is estimated that approximately 10 million tons of plastics alone are dumped into the oceans and rivers every year. There are several foundations that have vessels designed to scoop this waste up.
Of all the trash, Plastic is by far the most prolific and harmful substance to the oceanic and human environments. It primarily floats on the surface of the water. However, large amounts are also found floating at great depths in the oceans. Being carried by ocean currents, it can exist for years, eventually decomposing to smaller and smear pieces, which endangers not only marine life but human life as well.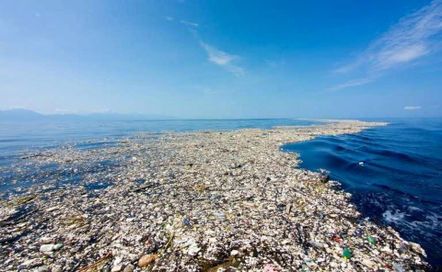 A brief description.
The image here is a gyre. Gyres are currents in the oceans that create large circles. The gyre shown above is about 300 miles long. They are dynamic, changing shapes and sizes based on the ocean currents.

Gyres are generally formed by winds and currents. Think of them as gigantic whirlpools. There are 5 named subtropical gyres: North Atlantic, South Atlantic, Indian Ocean, South Pacific, and the largest most insidious the North Pacific aka the
Great Pacific Garbage Patch
.
It is estimated that approximately
10 million tons
of plastics are dumped into the oceans and rivers every year. There are several foundations that have vessels designed to scoop this waste up. It is a never-ending problem, endangering all marine animals and most importantly human life.
The plastic that escapes being scooped up for recycling, eventually breaks down into
microplastics.
Microplastics, in many cases, entering our drinking supplies, food and the air we breathe. Microplastics are carcinogenic, exposing every living thing to cancer or pulmonary disease.
How Printers Help. 


Digital Screens present real time data. Large format printouts present a clearer visual of the changing gyres dimensions. HP's wide format DesignJet's Z6/Z9 printers provides the highest resolution output through color differentiation that is easier to analyze with the naked eye.
.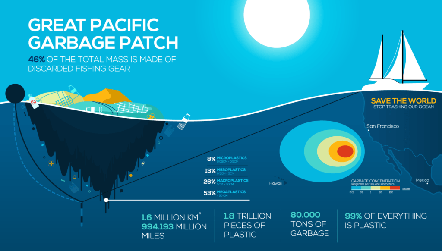 Moving Forward Together. 
Several organizations throughout the world are seeking an international agreement to reduce the plastic invasion of the oceans and rivers. Countries in the EU and Africa and Asia have expressed support for an agreement. However, very little action has resulted from these efforts. One of the most supported efforts is the banning in many countries of the common plastic grocery bag and the microplastics that are prevalent in cosmetics.
Until there is global support and strategy, the scientific communities, local state, city and national governments will plod along with very few results.
There are very few multinational corporations that produce the raw plastic pellets that produce virtually all of this waste. Dramatic changes in this "ocean of waste" will only occur when regulatory practices are put in place that will require production and encourage the development of biodegradable products that will be plastic free and yet provide products that the general public can accept and use.
HP is PSI's vendor of choice for wide format printers and ink. HP has made a considered effort to manufacture environmentally friendly ink. Many of their printers, ink cartridges and parts are made from recycled plastics. PSI sells media that is totally recyclable and has a complete line of products made from recycled paper. We look forward to the continued sales of HP's products and the further availability of media and substrates that meet this global waste challenge.
Search for a product
We have amazing products in our shop, check them now !
Your Dynamic Snippet will be displayed here... This message is displayed because you did not provided both a filter and a template to use.