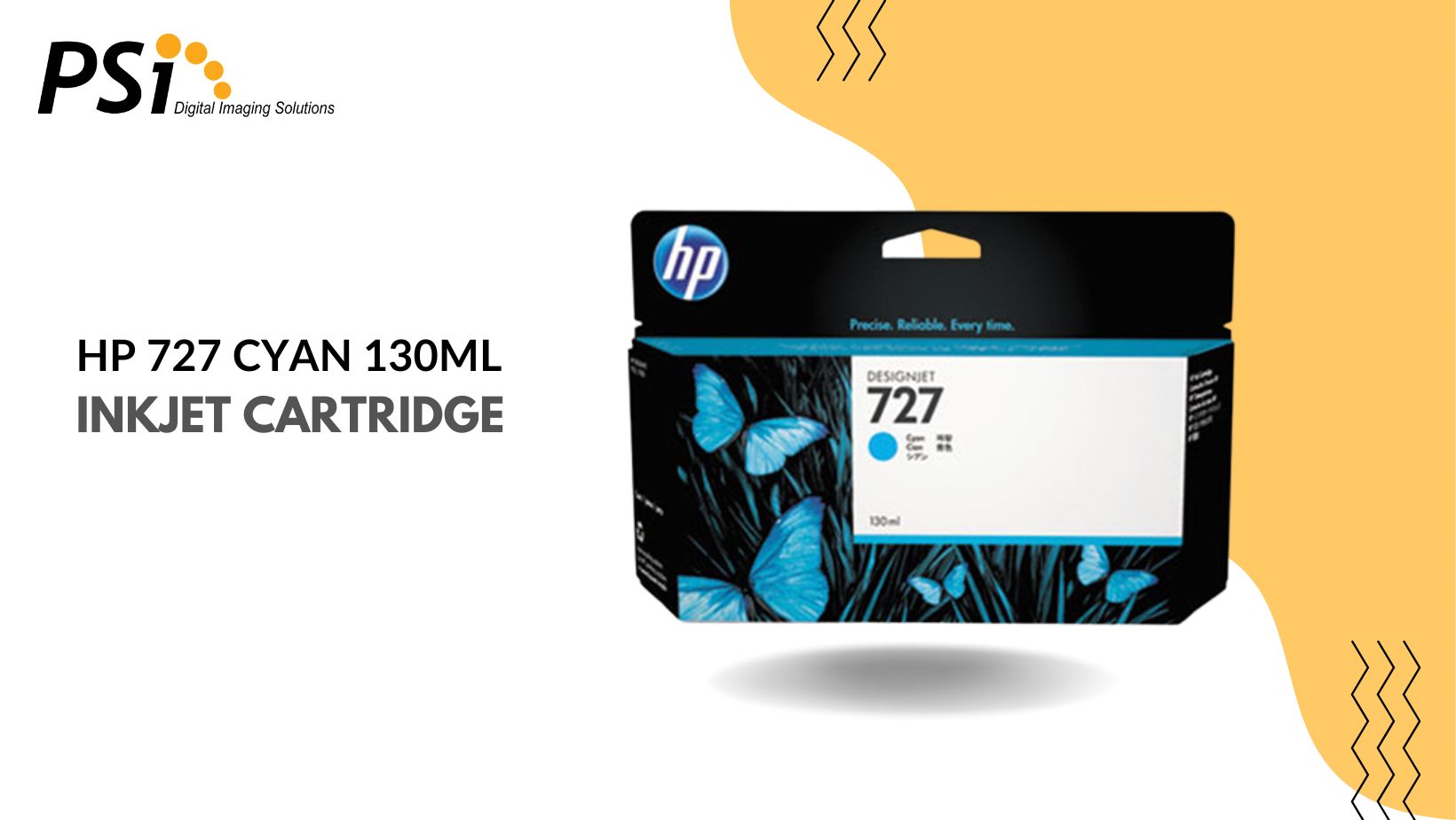 Printing has become integral to our daily lives, whether students, professionals, or casual users. And for printing quality, reliability, and cost-effectiveness, HP inkjet printers have been the go-to choice for many.
However, choosing the right ink cartridge can make a huge difference in the overall printing experience.
Uses of HP inkjet print cartridge
●     High-quality printing
●     Photo printing
●     Graphics and presentations
●     Marketing materials
●     Reports and documents
●     Home and office use
But is the device worth it, ensuring you get the most out of your printing needs without any hassle? Let's know
Top Reasons To Buy HP Inkjet Print Cartridge 727
1. Quality Assurance
Genuine HP Inkjet Print Cartridge 727 is designed and produced by HP, ensuring the highest level of quality. HP's stringent quality control processes ensure that each cartridge meets the exact specifications required for your printer. The result is exceptional print quality with sharp text and vibrant colors, whether printing text documents, photos, or graphics.

2. Optimal Performance
Using genuine HP cartridges guarantees optimal performance and compatibility with your HP inkjet printer. The 727 series is engineered to work seamlessly with various HP printer models, so you won't have to worry about issues like smudging, streaking, or color inconsistencies. Moreover, genuine cartridges help maintain your printer's longevity by preventing potential damage caused by low-quality or third-party alternatives.
3. Reliability and Consistency
Consistency is crucial in printing, especially for businesses and professional users. Genuine HP cartridges deliver consistent performance throughout their lifespan. You can rely on them for high-quality prints from the first page to the last. Unlike generic cartridges, which may run out quickly or provide inconsistent results, HP Inkjet Print Cartridge 727 ensures you always strive for quality.
4. User-Friendly Installation
Replacing an ink cartridge can be intimidating for some, but with genuine HP Inkjet Print Cartridge 727, it's a breeze! HP designs its cartridges to be user-friendly and easy to install. You don't need to be a tech expert to replace them, and HP printers often guide you through the process with simple step-by-step instructions. This means less downtime and more time for productive printing.
5. Long-Term Cost Savings
While it's true that genuine HP cartridges might have a slightly higher upfront cost compared to generic options, they offer significant long-term cost savings. Genuine cartridges generally last longer and deliver a higher page yield than their generic counterparts. You'll find yourself replacing cartridges less frequently, resulting in lower overall printing costs in the long run.
6. Warranty Protection
Using genuine HP Inkjet Print Cartridge 727 ensures HP's warranty and support services cover you. HP will assist you promptly if there are any issues with the cartridge or printer related to its performance. This warranty protection provides peace of mind and reassurance that your investment is safeguarded.
How to Properly Install & Replace HP Inkjet Cartridge
●     Turn off the printer.
●     Open the printer cover or cartridge access door.
●     Remove the old cartridge by pushing down and pulling it out.
●     Unwrap the new cartridge from its packaging.
●     Insert the new cartridge firmly into the corresponding slot.
●     Close the printer cover or cartridge access door.
●     Turn on the printer.
●     Align the cartridges if prompted on the printer's display.
HP Inkjet Print Cartridge vs. Other Cartridges
HP Inkjet Print Cartridge: The Champion of Print Quality
HP inkjet print cartridge 727 takes the lead with its superior print quality. Whether printing text documents or colorful photos, HP ensures sharp and clear output with vibrant colors that bring your prints to life. Other cartridges may claim lower costs, but they often need to deliver the same level of print quality, leaving you with dull and lackluster results.
Reliability Showdown
When it comes to reliability, HP Inkjet Print Cartridge comes out as the champion. HP's cartridges undergo rigorous testing and are designed to work seamlessly with HP printers, ensuring consistent performance and reducing the risk of smudges, streaks, or print errors. On the other hand, other cartridges might prove unpredictable, causing frustration and wasting your time with subpar prints.
Long-Term Cost Savings
While other cartridges may attract you with their lower upfront costs, HP inkjet print cartridge 727 offers significant long-term cost savings. HP's genuine cartridges generally have a higher page yield, meaning they last longer and produce more prints per cartridge than many generic alternatives. This advantage offsets the slightly higher initial investment, making HP the more cost-effective choice in the long run.
User-Friendly Installation
●     HP Inkjet Print Cartridges: Easy and hassle-free installation.
●     User-friendly design for everyone, no tech expertise needed.
●     Simple step-by-step instructions for smooth cartridge replacement.
●     Other cartridges need more user-friendliness, leading to clarity.
Warranty Protection
HP stands strong with excellent customer support and warranty protection. When you choose a genuine HP Inkjet Print Cartridge, you gain peace of mind knowing that HP has your back. In case of any issues, HP is ready to assist you promptly and efficiently. Other cartridges might not come with the same level of warranty protection, leaving you with limited or no support if any problems arise.
The Clear Victor—HP Inkjet Print Cartridge!
With top-notch print quality, unmatched reliability, long-term cost savings, user-friendly installation, and excellent customer support, HP trailed other cartridges far behind.
The Bottom Line
With this cartridge, you'll never have to worry about smudges or streaks again—it's all about reliable and top-notch performance. Whether it's school projects, stunning photos, or eye-catching presentations, buy it online at Plotter Supplies.
You can deliver high-quality ink cartridges to your doorstep with just a few clicks. Don't settle for anything less than the best—get your hands on genuine HP ink now and experience printing to a new level!