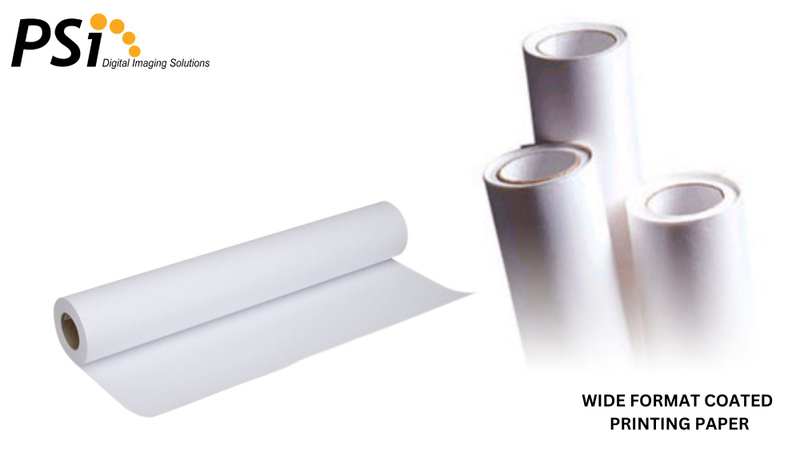 Many industries, including graphic design, architecture, and engineering, now depend heavily on wide-format printing. It can be difficult to choose between wide format coated printing paper or uncoated ones for your project, though, because there are so many of them available. 
We created this guide for the various wide-format paper types for that reason. To identify the product required for your upcoming project, review the information below. Take the following things into consideration while buying printing paper. 
1. Size
When choosing the kind of paper for a project, paper size is a crucial factor to take into account. Paper of varied sizes can produce a variety of styles and effects. Additionally, they might need a particular way of folding or cutting printed goods like brochures or flyers.
The optimal size roll or sheets to use are frequently described in the user manual that came with your printer. By adhering to these recommendations, you can extend the lifespan and proper operation of your printer.
2. Length & Width
The roll's length and width describe its size. What will fit in your printer depends primarily on its width, which can range from 11 inches to 42 inches. However, the majority are 150, 300, or 500 feet long. You can print lengthy items at any time, thanks to this.
Therefore, a roll of wide format uncoated printing paper might be 24 inches by 300 feet in size. This implies that every project will be 24 inches wide, albeit the exact width will depend on your demands. Multiple projects will use the same role. 
3. 
Paper Type 
There are many types of paper that are suitable for different purposes for printing signs, banners, or posters. There are a number of primary alternatives available, including:
·         Bond paper 
·         Tracing paper
·         The vellum paper
·         Mylar paper
 As we continue with our discussion of the many kinds of wide-format papers, we'll go over these variants and their typical applications.


Wide format coated printing paper Vs. Wide format uncoated printing paper
Well, here's a very simple explanation that will clear the air about the major differences between coated and uncoated printing papers. The wide format coated printing paper has an ink-absorbing layer that traps the ink before it can percolate into the paper's fibers. Not only does this allows for speedy printing with a reduced dry time, but it also needs less ink and brings down the overall cost of production. 
Because there is no coating to handle ink absorption, wide format uncoated printing papers are more difficult to work with in high-speed production operations. To avoid smudging and bleeding, this frequently entails waiting before switching to in-line finishing. Delaying deliveries, spending more time on press and finishing, and, most importantly, losing brand consistency due to versioning are all possible consequences of using uncoated paper, even though its price point may initially seem appealing. This is because color quality can vary from page to page depending on how the paper fibers absorb and hold ink.
Conclusion
The good news is that paper makers are developing sheets with the consistency and quality required to fully utilize the most cutting-edge printing processes available today. For its coated, high-speed inkjet papers' uniform design, superior outputs, and chain of ownership that extends from forestry through coating innovations. 
PSI - Digital Imaging Solutions, Inc. can meet a wide range of company needs, from direct mail and transactional/transpromotional printing to commercial print applications, by coating a range of base paperweights in a number of finishes. You can find both Wide format coated printing paper  as well as uncoated sheets.